In FUNCI, we have been working for a longtime on the development of "halal" tourism. An eco-tourism approach, both for the cultural needs, and the preferences of the Muslim travelers who have chosen Spain as their destination. In addition to religious principles, we also take into account environmental sustainability and cultural quality elements in our proposals, in accordance with our principles and with the real philosophy behind the "halal" concept.
On this occasion, and in the frame of the Collaboration agreement signed between Madrid City Council and FUNCI on the recovery of heritage, we organized a joint workshop under the title "Opportunities for the development of a eco-halal sustainable cultural tourism in Madrid", developed on November 27th, at Madrid's Centro Centro Cibeles. This activity, aimed exclusively to professionals on the tourism sector, was also framed in the European Year of Cultural Heritage 2018.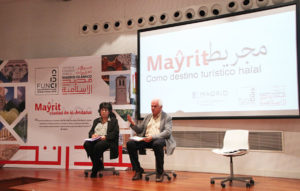 During the workshop, Encarna Gutiérrez, FUNCI's Secretary General, presented the main lines of the Collaboration Agreement between FUNCI and Madrid's City Council, based both in the recovery of Madrid's cultural and natural heritage, and in its promotion and dissemination. In this sense, FUNCI created in 2017 the Center for the Study of Islamic Madrid (CEMI), in collaboration with the University Complutense of Madrid.
Center for the Study of the Islamic Madrid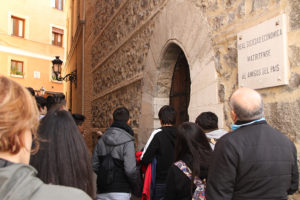 CEMI gathers experts on several fields, who organize educational and raising-awareness actions on the Islamic heritage of Madrid, and enhance it's potential as a cultural and sustainable touristic destination. In fact, and in the face of the lack of "eco halal" services and products for the Muslim market, FUNCI has launched the ECOHALAL VALUE trademark, presented to the tourism sector in the workshop, in collaboration with Madrid Destino. This initiative comprised the results gathered at FITUR 2018.
This workshop showed a qualitative advancement, since the beginning of the year, as it counted with the participation of several representatives of the tourism sector, such as sabine Schwanz, Director of Travel Trade & Connectivity of Madrid Destino, key representatives of UNESCO's heritage department, and diplomats from Malaysia, Senegal, and Qatar. During this session, and after the presentation of the ECOHALAL VALUE trademark by José María de Juan, manager of the company specialized in sustainable tourism Koan Consulting, the attendants made interesting contributions to incorporate to the trademark. ECOHALAL VALUE will be presented at FITUR 2019 next January, with an in-depth program. Likewise, Madrid Destino will support and contribute to the promotion of the trademark in FITUR 2019, and in the many national and international forums.
Thus, after this workshop begins a road mark to make Mayrit –Madrid– a "eco halal" touristic destination.