The Center for the Study of Islamic Madrid (CEMI) will participate in the 5th edition of the Hispano-Arab Book Fair, organized by the Intercultural Hispano-Arab Circle (CIHAR), under the patronage of the Embassy of Qatar.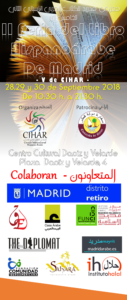 This edition of the Hispano-Arabic Book Fair, organized in Madrid for the second time, will count with different stands, among them, that of the Center for the Study of Islamic Madrid. The stand will have some of the most complete books on the History and origin of the Islamic Madrid. Among them, "Madrid Islámico", from CEMI's research coordinator, Daniel Gil-Benumeya. The stand will also have many of the books published by the Islamic Culture Foundation.
On the occasion of this exceptional opportunity to get to know the Hispano-Arabic culture, a visit to the Islamic Madrid will be organized, along with CIHAR, next Sunday, September 30th.
Likewise, on September 29th, Saturday, there will be a roundtable, "El Madrid Árabe, Islámico, Andalusí" (The Arab, Islamic, and Andalusi Madrid), which will count with the participation of two of CEMI's collaborators: Daniel Gil-Benumeya and Rafael Martínez. At the end of the activity, there will be drawn ten tickets (courtesy of CIHAR) for the tour to the Andalusi and mudejar Madrid organized on the next day.
The 2nd Hispano-Arabic Book Fair of Madrid will take place in the Cultural Center Daoiz y Velarde (Plaza Daoiz y Velarde, 4), on the 28th, 29th and 30th of September, from 10.30h to 21.30h.