The term 'cultural heritage' has changed content considerably in recent decades, partially owing to the instruments developed by UNESCO. Cultural heritage does not end at monuments and collections of objects. It also includes traditions or living expressions inherited from our ancestors and passed on to our descendants, such as oral traditions, performing arts, social practices, rituals, festive events, knowledge and practices concerning nature and the universe or the knowledge and skills to produce traditional crafts.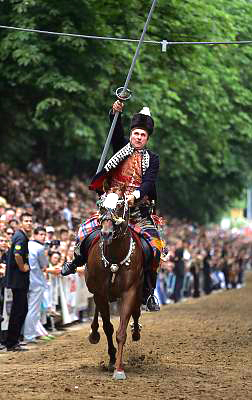 To be kept alive, intangible cultural heritage must be relevant to its community, continuously recreated and transmitted from one generation to another. There is a risk that certain elements of intangible cultural heritage could die out or disappear without help, but safeguarding does not mean fixing or freezing intangible cultural heritage in some pure or primordial form. Safeguarding intangible cultural heritage is about the transferring of knowledge, skills and meaning. Transmission – or communicating heritage from generation to generation – is emphasized in the Convention rather than the production of concrete manifestations such as dances, songs, musical instruments or crafts.
A chivalric tournament
The Sinjska Alka is a chivalric tournament that takes place annually, as it has since the 18th century, in the town of Sinj, in the Cetinska krajina region. During the contest, knights ride horses at full gallop along a main street, aiming lances at an iron ring hanging on a rope. The name of the tournament derives from this alka or ring, a word whose Turkish origin reflects the historical co-existence and cultural exchange between two different civilizations. The tournament rules, codified in a 1833 statute, promote ethics and fair play, and stress the importance of participation in community life. Participants must be members of local families of Sinj and the Cetinska krajina region. The whole community helps to make, conserve, restore and reconstruct weapons, clothes and accessories to support the continuation of the tradition. The tournament is also entwined with local religious practices, social gatherings, family visits and festivities at home and in the open air. The Sinjska Alka is the only remaining example of the medieval knightly competitions that were regularly held in the Croatian coastal towns until the nineteenth century. It has become a marker of local history and a medium for transferring collective memory from one generation to another.