The Spanish Agency for International Cooperation (AECID) has republished "Los colores culturales de Marruecos" (The Cultural Colours of Morocco). Edited by the Spanish cultural enterprise, INNOVARTE, dedicated to the recovery of popular arts, this book gathers the contents of the homonymous exhibition developed in Rabat (Morocco) in 2011, with the cooperation of the Spanish Embassy in Morocco and FUNCI. The exhibition was, then, moved to different places of Spain and Morocco´s geography.
This wonderful book is dedicated to the chromatic palette of the rich Moroccan tradition, by adopting a constructive approach, combined with a handmade, artistic and folkloric perspective. A wealth in danger, due to the import of products and foreign fashions, it needs to be highlighted and preserved, or it will fade away, as it has happened in some occasions. This is the goal of the investigation developed through this book by Marga Crespo, Elisabeth Eguía and Francesca Valan. "Los colores culturales de Marruecos" includes a considerable selection of texts and refined pictures in order to illustrate the use of different colors in the Moroccan tradition, origins and meaning.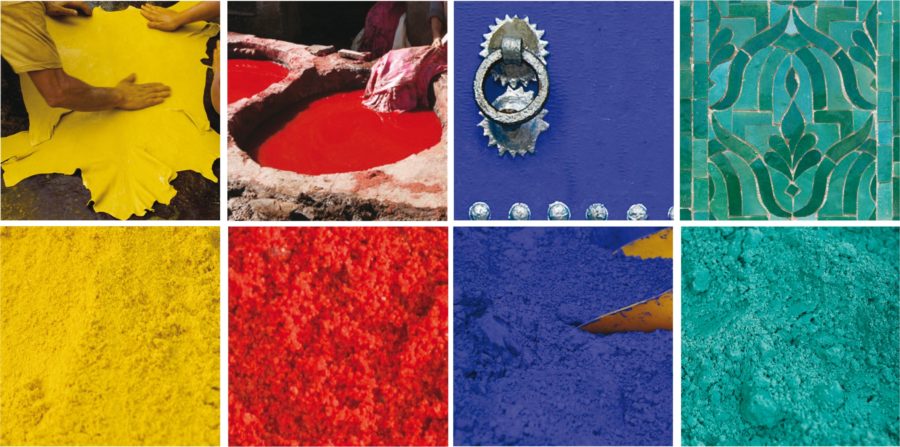 As Cherif Abderrahman Jah, President of FUNCI, confirms in the prologue: "Colors, present in everyday life through an infinite harmony of brightness and nuances, influence the mood of human beings, and are the best vehicle for expressing their feelings. Since ancient times, each color gained a specific symbolism present in the social, religious and artistic uses. This symbolism has survived until our days". That combination of colour-schemes, emblems and cultural characteristics, shape the personality of each nation, and Morocco is a country in which this link and the presence of characteristic colours is specially obvious and attractive. "Its well-highlighted application and expressivity guarantee the book's coherent cultural dimension, captured and expressed by the authors…", values the Arabist María Jesús Viguera, author of a second prologue.
The following photo gallery has been done by Inés Eléxpuru, who has participated in "Los colores culturales de Marruecos" work: