After a month of contest, whose goal was to reflect different situations of islamophobia or cohabitation with the Muslim population in a photo, video or tweet, we finally have our winners!
Participation has been high. Thus, we can confirm this editions' success, especially taking into account the complexity of the topic and the fact that it was our first experience working in this event. We are sure that, in the future, both the participation and the works' quality will increase.
We want to thank all the participants for their effort and interest, through their proposals they are helping to raise awareness about islamophobia and to build a more tolerant and plural society. We would also like to thank the members of our jury, all skilled professionals of the media field, for their commitment to human rights and their dedication to this contest. Our jury was composed by Teresa Aranguren, Javier Valenzuela, Mónica G. Prieto, Carlos Hernández, Inés Eléxpuru and Blas Maza.
Winners have been selected both by our jury and by popular decision.
The winning works are:
Photography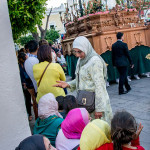 Jury prize: "Respetuo mutuo" (Mutual respect) by Nando Fossati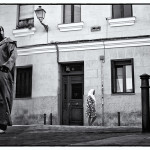 Public prize: "Mimetizados" (integrated/camouflaged), by Ricardo Abeo
Tweet
Jury prize: @Iratxe_ra. "Al entrar en clase todas las miradas fueron hacia su pañuelo. Excepto el último de la fila que le miró a los ojos." (When she entered the classroom, all looks went to her headscarf. Except for the boy in the last row who looked her in the eyes.)
Public prize: @AnaZiwat. "Un corazón puro no entiende de aquello que llaman 'raza'." (A pure hearth doesn't understand what race is.)
Video
Jury prize: "Las Diferencias Suman: Stop Islamophobia" (Differencess add up. Stop Islamophobia), by Dora María Irizarry Cruz
Public prize: "Las Diferencias Suman: Stop Islamophobia" (Differencess add up. Stop Islamophobia), by Dora María Irizarry Cruz