Last February 20th took place the XIX meeting of the Anna Lindh Foundation's Spanish Network (ReFAL) at the Cultural Center La Nau. Eva Iturbe attended the meeting in representation of the Islamic Culture Foundation, as an Institution member of the Network.
Jose Ferré, acting General Director of IEMed (European Institute of the Mediterranean) –coordinating institution of the Network, located in Barcelona– welcomed the attendees and moderated the program and debate, which counted also with the participation of Antonio Ariño, Vice-rector of Culture and Sports of the University of Valencia, and Fatma Kotkat, responsible for the areas of Communication, Programs and Management of the FAL network. The latter explained the Foundation's future actions, to be implemented in the year 2019. The debate centered on the need to highlight the importance of interculturality and of strengthening actions focusing on cultural interaction and awareness-raising, against the current rise of populisms.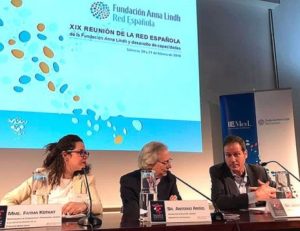 Likewise, several internal issues were also discussed, related to the Spanish network's coordination, its economic balance and its networking capacities. The executive committee profited from this opportunity to present its two new members: Casa Arabe and Astrea ICSCE.
Lastly, the more than 60 members of FAL, including FUNCI, had the chance of assisting to a conference on the European Union's decision-making process, its main actors, and opportunities and timing to exert a positive influence on Europe, as well as participating in its market of projects and ideas. The frame of the Anna Lindh Foundation's Spanish Network proved an efficient space to get to know each other and share proposals and activities.