During their last stay in Doha, in February 2018, two of FUNCI's representatives, Encarna Gutiérrez and Inés Eléxpuru, FUNCI's Secretary General and Director of communication respectively, assisted to the 13th Congress on Interfaith Dialogue. The Congress was organized by the Doha Center for Interfaith Dialogue (DICID), directed by Mr. Ibrahim bin Saleh Al Naimi, and formed by researchers from all over the world.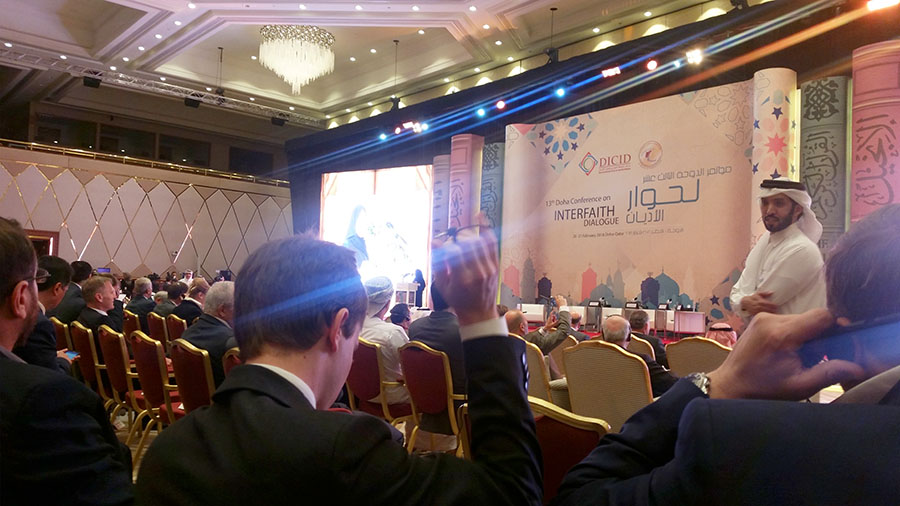 The topic selected for the Congress was interfaith dialogue and human rights. The sessions took place on February 20th and 21st, and were largely attended by people from Qatar, Spain, Morocco, Algeria, France, Malaysia, Turkey, Iran, Kuwait, Argentina, Croatia, Palestine, the United States, and many other countries.
Some of the topics developed during the panels were human trafficking, injustice, religious freedom, and the status and conditions of refugees, always from a religious and ethic perspective, and in accordance with the UN's 1948 Universal Declaration of Human Rights.
Among the attendees were Muslims, Jews, and Christians from different churches, as well as religious leaders. There were also different specialists coming from universities and the civil society.
The participants
Especially important was the presence of Dr. Aisha al Mannai, Director of the Center for Islamic Contributions to Civilization of Qatar, who opened the first plenary session; as well as the President of Tunisia's Parliament, Dr. Abdel Fattah Morou, and the rabbi Reuven Firestone, from the Hebrew Union College. Among other participants, there were also Dr. Mariam Ait Ahmed, from Morocco; Prof. Jaime Rosell, Deputy director of religious affairs in the Spanish Ministry of Justice; Dr. Masudur Rahman Masud, from Bangladesh; Prof. Mubarak Al Muttawa, from Kuwait; Dr. Susana Mangana, from the Catholic University of Uruguay; and Mr. Claudio Epelman, from Argentina.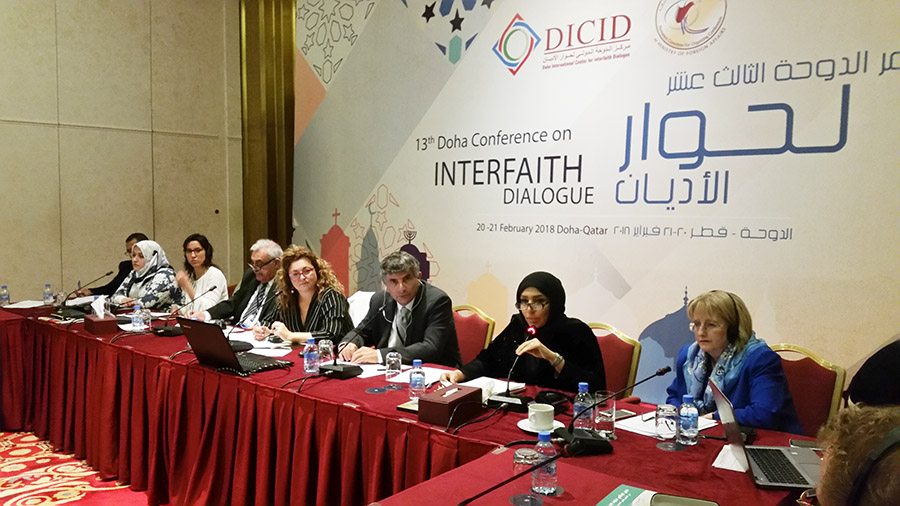 Besides the many mentions to the notion of equity and justice in the sacred texts of the Abrahamic religions, there were other hot topics, such as the blockade carried out against Qatar by some Arab states, the refugee crisis, the genocides carried out in the Middle East and Asian region, terrorism as a violation of the rights promoted by religions, the Palestine question, and the lack of freedom of conscience existing in some fields.
All these from a legal, civil and individual perspective.