Yazid Kheloufi's works show an approach to writing as a means of creation, through calligraphy and its composition with its base, in a constant dialogue between the material world and the inner-self. Its work reflects the link between the human conscience and the meditation originated in the Revelation, which leads to individual introspection.
His work, in which clay plays an essential role, relies strongly on philosophy, from the illuminative philosophy of the Persian thinker Chihab eddine al Suhrawardi (1191-1155), to philosophers like Ibn-Arabi (1165-1240), al-Bruni (973-1048) or Abou Hayen El-Tawhidi (923-1023). This last one is especially relevant, as his thoughts shape a big part of Kheloufi's works, such as Mihrab, Dialogue or J'écris donc j'éxiste, among others. Khelouzi, thus, becomes a compiler of stories, experiences and thoughts, which he uses to create his own reflection around the role of the spiritual in human existence.
With this purpose, and relying on a wide Sufi repertoire and on the Andalusi visual heritage, this artist highlights the power of the Arabic alphabet to reflect on the different phases of human existence. Arab writing is, thus, understood as something flexible, "nomadic", that is able to interact with the base and to superimpose its messages, by adopting different orientations (from right to left, from top to bottom), sizes, colors and formats (concentric calligraphy, spiral-shaped, etc.). All of this while maintaining the predominance of spirituality, so that the aesthetic and interiority are in constant interaction. As stated by the author in one of his works, by citing the philosopher al-Bruni: "Don't think that you will understand the mystery of writing through logic, you will only do it through the Vision and divine favor!"
"The 'voices' of the men on Earth, that's what Yazid Kheloufi's works are."
It is necessary to spiritualize the world
In addition to this philosophy-based works, others stand out, such as Tahrir Square, a tribute to the first martyrs that triggered the 2011 Arab uprisings: Mohammed Bouazizi and Khaled Said. Presented as a triptych, the work is composed of the slogans used by the Tunisian and Egyptian people during the demonstrations, which led to both president Ben Ali and Mubarak's falls.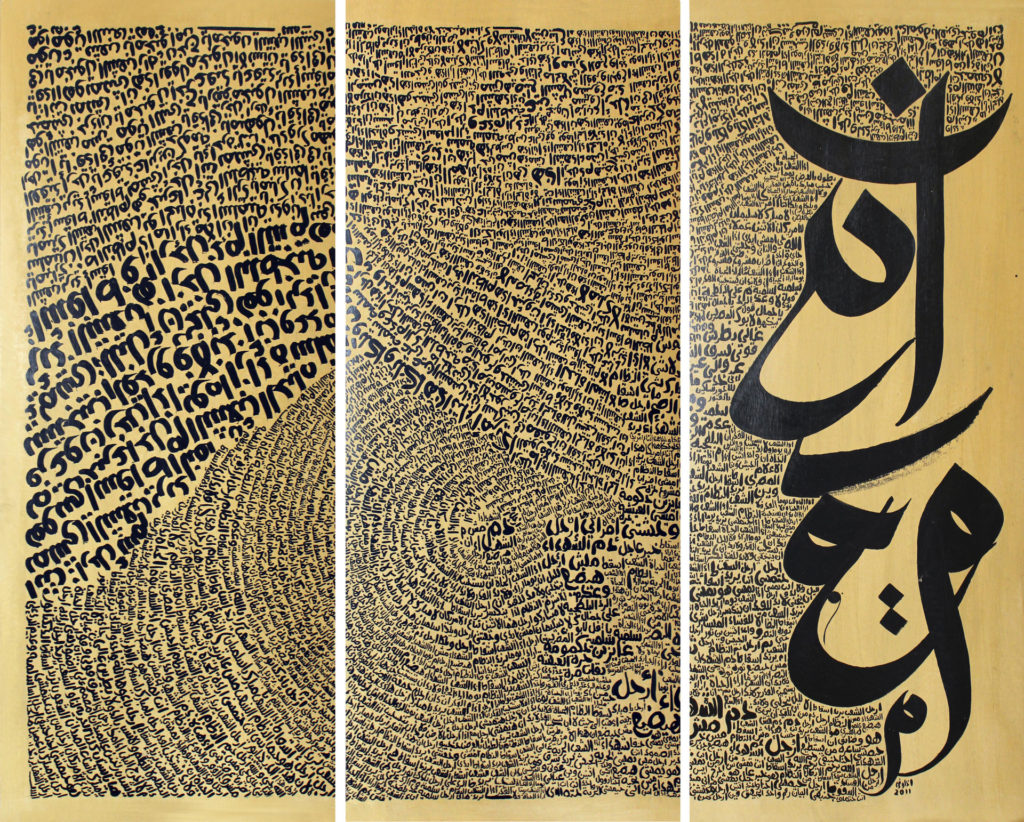 As stated by Georges A. Bertrand, photographer and art historian, when studying Kheloufi's work: "The 'voices' of men on Earth, that's what Yazid Kheloufi's works are."
Yazid Kheloufi was born in Hamam Boughrara, Algeria, in 1963. Fascinated about calligraphy art from a short age, he has presented individual exhibitions in Algeria (Oran, Algiers and Béjaïa) and France (Paris, Nanterre), and has participated in collective exhibitions in Turkey, Greece, Algeria, France and Hungary.