It's a damp, cold October night in Berlin, but along Hauptstraße in the Friedenau district, inside the famed Zig Zag Jazz Club, the crowd waiting for Alaa Zouiten is lively, chattering and warm.
A fire-red glow reflects from the lights near the stage where the Morocco-born 'ud player begins plucking a few of his instrument's strings. Clinking glassware and the hum of conversation subsides into concentration.
Zouiten's first song comes as a rapid-fire arrangement that at once showcases his virtuosity, flitting between styles he refers to as flamenco arabe and urban jazz. After that, his band joins him: a Spanish percussionist, a French bassist, a Canadian violinist and a pianist from Lebanon. Midway through their opener, Zouiten pauses to let his audience know it's about to hear something new.
"We are trying a mix of different styles of music up here," he says. "I hope it's OK."
Cheers erupt. One woman near the front calls out, "It's more than OK. It's geil!"—a German slang compliment that falls between "cool" and "sick."
Reflecting on the audience's enthusiasm, Zouiten elaborates as he strums and talks, strums and talks.
A rich cultural music tradition
"I am neither a purist Arab 'ud player, nor a jazz composer, nor a traditional flamenco artist," he says, continuing to pad his thoughts with notes that will lead into the next song. "Just the fact that I'm from a country like Morocco, with its Arabic, Amazigh, Islamic, African, Jewish and Andalusian influences, makes the answer more difficult."
"I am neither a purist Arab 'ud player, nor a jazz composer, nor a traditional flamenco artist. Just the fact that I'm from a country like Morocco, with its Arabic, Amazigh, Islamic, African, Jewish and Andalusian influences, makes the answer more difficult." 
Like his band, his music and the city he now calls home, Zouiten is surrounded by a comingling of cultures and the resulting exchange of geographic collateral.
"While I was looking for a label for my music, some called my music Oriental Jazz. Others called it Arabic Andalusian fusion," he says. "I was constantly dissatisfied with all these names, until finally I came to the right term. My music is about a plaisir transculturel, or transcultural enjoyment."
Music has never been about just one thing, he says. Throughout the Middle East, North Africa and the Mediterranean, music has always been rich with both tradition and the eclecticism that comes with movements of peoples. In Morocco, for example, where French and Arabic are spoken both independently and fused into a dialect, there's a complex soldering and even reconciling of identities that often presents in music. Moroccans, like people elsewhere, understand nuanced cultural representations, which in their region light up a spectrum of Arab, Italian, French, Amazigh and Andalusian influences that have all at different times borrowed from and given to other styles.
A large Arab population in Berlin
People in Berlin identifying as Arab are now the fourth-largest ethnic group in the city, approximating 135,000, or 3.5 percent of the total population. Musicians like Zouiten are helping create a musical landscape more open than ever to fusion.
Large numbers of Arabs first began arriving in Germany in the 1970s as Gastarbeiter (guest workers), many from Morocco and Tunisia. Others later came from Lebanon, Palestine, Iraq, Sudan and—most recently—Syria, often fleeing conflicts. For this reason, over the past couple decades, Berlin has become a polestar of music influenced by, performed by and increasingly produced by new arrivals. Amid and alongside an ethnically German majority, the mix has come together in connections of people, tones, rhythms, instruments and ideas. Compositions are resonating not only within Berlin, but across Europe and beyond. Berlin has become one of the world's hottest crucibles of musical creativity.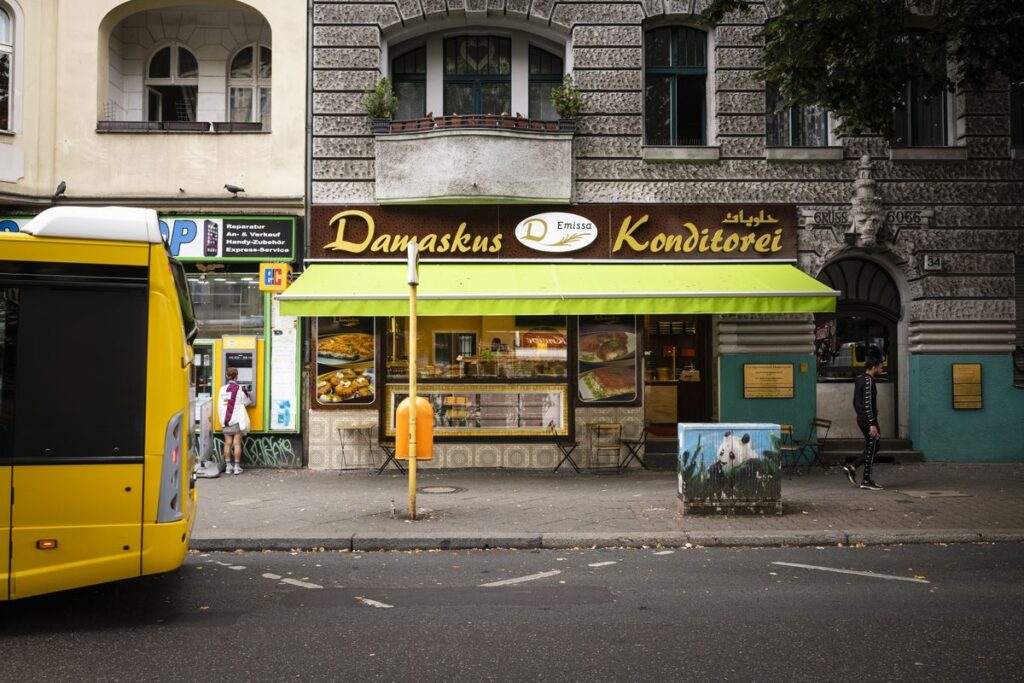 When Professor Amro Ali arrived in 2011, he says that he sensed the first signs of the burgeoning cultural scene. As a sociologist specializing in how cultures influence behavior, he noticed the city's peppering of restaurants offering kebabs, shawarmas, baklava and the like, but he also noticed a lack of institutions showcasing Arab literature, art and music.
That changed in the 2010s following the Arab Spring that ultimately forced many from North Africa and the Levant—and notably from Syria—to seek refuge and asylum abroad. A historic turning point came in 2015 when, faced with such great numbers of people fleeing repression of the Syrian Revolution, German then-Chancellor Angela Merkel opened Germany's doors wider than ever. Of the approximately 1.2 million asylum seekers Germany welcomed were artists, teachers, businesspeople and intellectuals and, among them, many chose to settle in Berlin.
Arabs and others from across the Middle East and North Africa were thus meeting each other in the city, says Ali, and sharing a common experience of emigration and adaptation. This created a fertile ground for intercultural interactions and collaborations in everything from practical matters to creative music.
"Berlin was already a cultural hub," says Ali, who is now a research fellow at the Freie Universität Berlin as well as a lecturer in sociology at the American University in Cairo. "But it was becoming a hub where Arabs could establish themselves quickly."
"Berlin was already a cultural hub. But it was becoming a hub where Arabs could establish themselves quickly."
A flourishing cultural activity
What the English magazine Exberliner called "an unprecedented outburst of cultural activity" was under way.
Newspapers, plays, films, art shows and Baynatna, the city's first-ever Arabic library, all opened amidst the influx.
"It has become the city of choice for a new generation of cultural talent from the Middle East and North Africa," Ali says.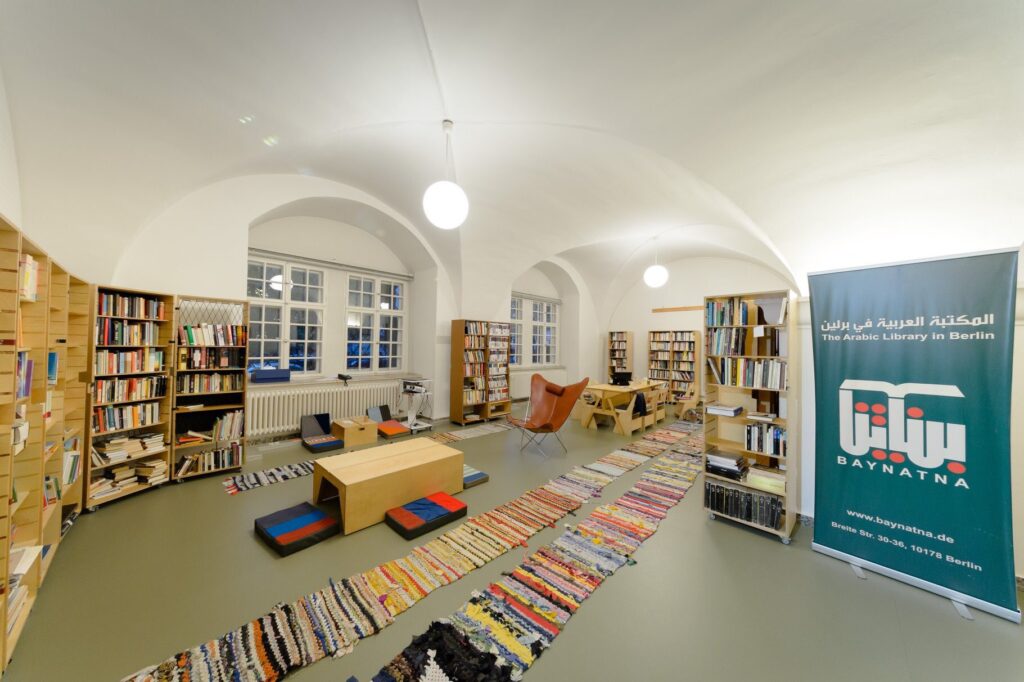 There emerged new alliances and new opportunities among artists and local institutions, organizations and subcultures, all in what has become, especially since the end of World War II, one of the world's most introspective cities, one unusually committed to the experimentation required for regeneration. Berlin was yet again becoming a pivot point for another chapter of European cultural history.
Before the COVID-19 pandemic (and now cautiously restarting) jam sessions, musical performances and dance parties proliferated. 'Ud players connected with percussionists and countless others in parks and plazas, especially amid the popular Sunday market at Mauerpark (Wall Park), along a former part of the Berlin Wall.
The weekly performances of The Arab Beats Project, an "Oriental electronica" collaboration by disc jockeys Rafi Gazani of Palestine and Uroš Petkovic of Serbia, brought together hundreds of partygoers at clubs along the graffiti-covered streets of Kreuzberg. On the classical side, the renowned West-Eastern Divan Orchestra, founded by Palestinian American scholar Edward Said and Israeli American conductor Daniel Barenboim and based in Seville, Spain, spawned in Berlin the Barenboim–Said Akademie, which offers students from the Middle East and North Africa bachelor's degrees and certificates in music. The Arab Song Jam emerged with weekly performances at Werkstatt der Kulturen, a venue in the southern, increasingly hip district of Neukölln.
And a hub for musical development
"It's this diversity that makes the scene so exciting," says Sean Prieske, who is a doctoral fellow in transcultural musicology at Humboldt-Universität in Berlin. Prieske says he's met traditional and modern musicians, classical artists and those into hip-hop, metal, electronica and jazz, and he says it's common now to hear that musicians are moving to Berlin solely to try to launch their international music careers.
Elias Aboud is among them. A percussionist who learned music in Damascus, Aboud finished his musical studies in 2021 at Barenboim-Said. In addition to performing with prominent orchestras, Aboud formed the Ramal Ensemble with three fellow Syrian musicians in Berlin. They not only play traditional pieces, he says, but also compose "works that bring the sophisticated polyrhythmic sound of Arab music to Western chamber ensembles, experimenting with classic tunes from both traditions."
While the idea for the ensemble began in Syria, Aboud recalls, "I was able to bring it to fruition here in Berlin," where he not only discovered a new sound but what he calls "new color" to music while playing keyboards atop traditional Middle Eastern instruments such as the flute-like ney, or the qanun, played by plucking its strings.
"Classical music is something Germans are proud of," says Aboud. "It made sense to combine the sounds, mix the traditions, and create something new that would touch people from multiple backgrounds and cultures."
In his newest project, Aboud is crafting music inspired, he says, by Berlin's popular Untergrundbahn, or U-bahn subway lines. His first piece, "U8," sought to evince the rapid-transit lines connecting heavily Arab neighborhoods in the Neukölln district to other parts of the city.
"My hope is that my music would move you not because you are Arab, but because you are a listener. It doesn't matter whether you're Arab, German, or Latin American. I just want people to appreciate the music."
Because of Berlin's warmly eclectic and often outspokenly nonrestrictive music scene, musicians like Aboud have been able to obtain a level of local status they aren't able to replicate in their home countries, says Prieske.
"While you can't compare it to Cairo or Baghdad, with their robust musical traditions, Berlin is definitely the most important city for Arabic music outside of Arabic-speaking countries at the moment."
6aha Aiwa, a rapper and lyricist from Aleppo, agrees. He knows Berlin isn't the only city where these musical fusions occur, but he says the city offers musicians like him access to different kinds of networks. Taha, who performs as 6aha Aiwa, performed relatively unnoticed for eight years in Syria before he moved in 2015 to Berlin where he immediately connected with the music scene.
"I was queuing in line for asylum, and some volunteers were providing hot tea. I started talking to one of them, and they invited me to a jam session," he says, remembering.
When 6aha Aiwa arrived, he expected to enjoy other musicians performing. He was shocked when they called him up on stage.
"Suddenly I had to sing in Arabic. It was almost overwhelming," he says.
Since then, 6aha Aiwa has been performing in festivals and solo concerts across Berlin. In 2016, he founded wladalamm, an Arabic rap, reggae and hip-hop group.
"Our music isn't for fun," he says. "There's not one line that you can waste. It's not just filling words."
His lyrics, he says, offer a means to explore asylum seekers' experiences—all of the good, the bad, and the in-between.
"To have Syrians speaking about these topics, with no fear, is a way for Germans to learn about this—straight from the source. It gives us a stage so that we can 'integrate' them to our world," he says. His rap, he emphasizes, is not "refugee music."
"To have Syrians speaking about these topics, with no fear, is a way for Germans to learn about this—straight from the source. It gives us a stage so that we can 'integrate' them to our world."
"I do art. I do music. I want people to book me as a musician and not as a refugee," he says, discussing how Arab artists in similar Berlin rap circles have taken notice that their music appears to be changing the things nonimmigrant Berliners are talking about as well.
"We cannot change the fact that Berlin is a German city. We are not going to change what German people like or how they do things." But with a scene made up of  people of so many different cultural streams, "we are shaping the city too," he says.
"Our fanbase is made up of Arabs and Westerners, anarchists and leftists, people from all over the spectrum. They resonate with our political perspectives, not just our cultural backgrounds," he says. "That's how it is in Berlin."
Perhaps as much as anyone in Berlin, vocalist Jamila Al-Yousef knows how it is, too, living a hyphenated identity as a minority in a curious but historically homogeneous city. Born on same day that the Berlin Wall fell—November 9, 1989—her mother is an Urberliner, meaning an "original Berliner," and her father came to Berlin as a refugee from Palestine: She calls herself Berlini-Palestini, and she is passionate about working alongside and collaborating with artists from across the world.
Al-Yousef founded the band Jamila & the Other Heroes in 2016, which over the past few years has toured in Germany, the Middle East and North Africa. In 2020, the group released its debut album, SIT EL KON (The Grandmother of the Universe) which features Arab percussion and Arabic lyrics but evades the confinement of labels such as "Arab music" by self-describing its sound as "psychedelic desert funk."
While tours continue to be difficult due to visa issues and a global pandemic not fully eased, Al-Yousef says that nonetheless, "as a band, we travel within our music. We travel within the creations we make together."
Their goal, like that of so many others, is to bring new, creative energy to topics that are important to the city.
"What we as artists in Berlin can do is tear down the borders in our head and invite others to do the same," she says.
This echoes the sentiments of plaisir transculturel that Zouiten explains from the spotlight up on the Zig Zag stage, where the notes, the cheers and the smiles defy divisions, bind the crowd in experience, and warm the chill of another late-autumn night.
Source: AramcoWorld