In Islam, figurative designs are, at the least, unadvisable. Some of them, as is the case with Quranic figures, such as prophets, angels or important characters, are even forbidden by the tradition. However, even if not very common, the representation of figures in the Islamic art has been constant throughout the centuries, as proven by the hall of the kings in the Alhambra of Granada, or the Umayyad castle of Quasir Amra (Jordan).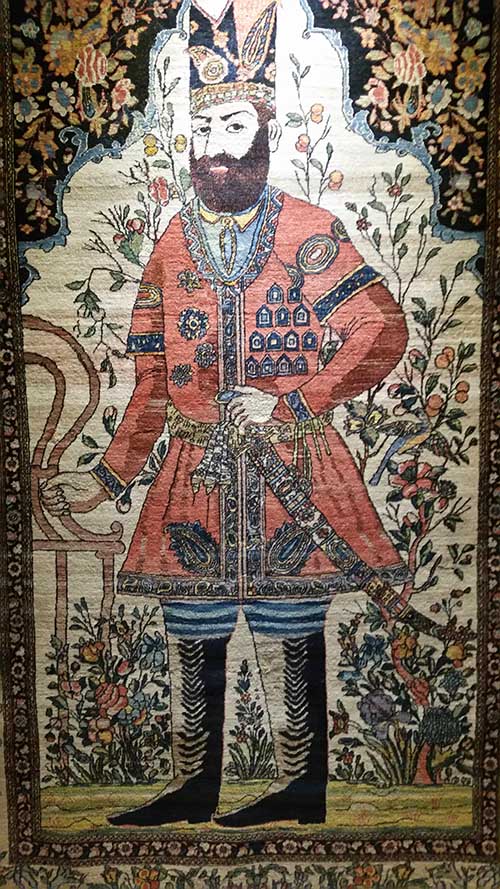 These figurative motifs are especially common in Persian and Turkish designs, as well as in some philosophical manuscripts, such as the Andalusi Hadith Bayad wa Riyad. Less known are the Islamic carpets and tapestry, a decorative art in which these designs are more frequently found. An example is the wonderful private collection of cheikh Faisal bin Qassim bin Faisal bin Thani of Qatar.
This collection contains Persian, Turkish, Afghan, Chinese, and Caucasian carpets and tapestry, among others. These comprise a period dating back to the 13th century, as is the case of a Seljuq carpet, up to the 19th and 20th century.
These pieces represent scenes from the rural and the court life, as well as historical characters specially related to the military power. It is also noticeable their depiction of some Quranic and Biblical characters, such as a Virgin Mary, Mariam, who is holding Jesus, 'Isa, in her arms, or the Prophet Yussuf, José in the Biblical tradition.