Nestor Martinez and Basilio Rodriguez, from FUNCI (Fundación de Cultura Islámica, Madrid), have returned to Syria to make a follow up trip, with the intention to start the construction of the Al-Andalus style garden which will be held in Al-Amma public park of Aleppo, in the frame of Med-O-Med Program.
Before traveling to this city, FUNCI technicians performed a two-day stay in the Syrian capital, Damascus, where they held several meetings. First they encountered with the project counterpart, Syrian Environment Association (SEA), then the financier of the project, AECID (Agencia Española de Cooperación Internacional al Desarrollo), and finally, with the Instituto Cervantes of Damascus.
Once the visits were finished, they went to Aleppo, where the delegation met with the Aleppo SEA branch. With SEA´s help severel meetings were held in the city council with different responsibles of the municipality, including the Director of City Parks, manager of public relations, cultural representative, a representant of the the topographical department, and finally, the Vice Mayor.
The situation of the park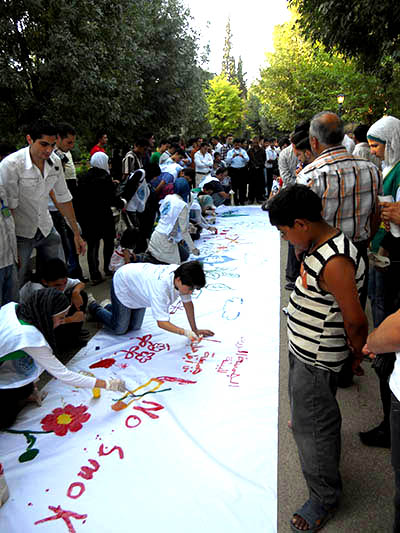 Visiting the park which will host the project, FUNCI technicians bring a great novelty. The director of the park has proposed a new location for this construction. The new location is a much larger area and better placed in the park which will undoubtedly help to improve the conditions of the project.
FUNCI technicians made the measurements, photographs and took the data from this new lot, and subsequently conducted a study of building materials available in the city, intended for, as in Al-Andalus times, adapt the construction to the local techniques and materials.
On Sunday July 11th, took place in the park a project presentation for the media, attended by several members of the municipality and the governor, two environmental groups in Aleppo, as well as representatives of FUNCI and SEA. Throughout the event, there were various activities such as creating a giant banner aimed to aware children and youth, in addition to, whitewash of trees to prevent insect attack.
Before returning to Damascus, the delegation visited the University of Aleppo, in which the dean of the Department of Agriculture appointed a work group to develop jointly with the experts of FUNCI the botanical design of this project.
After a final visit to the counterpart in Damascus, Nestor Martinez and Basilio Rodriguez returned to Spain with all the information and contacts made to soon begin the construction of the Al Andalus style garden of Aleppo.