We reproduce an excerpt of an interview with the Moroccan thinker and theologian Asma Lamrabet, published by the weekly magazine Telquel on the occasion of the publication of her latest essay on one of the central figures of Muslim culture and mysticism: "Râbi'a Al Adawiya, mystique et liberté" (Al Bouraq publishing house).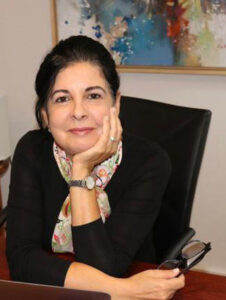 "An exceptional woman" is how the researcher and theologian Asma Lamrabet describes this central figure in the history of Islam, to whom she has dedicated her latest essay.  Recently published, Râbi'a Al Adawiya, mystique et liberté (Editions Al Bouraq, 2022) attempts to elucidate the silences surrounding the life of one of Islam's most famous women. While her name has survived for centuries to become anchored in the popular culture of Arab-Muslim countries, the image of Râbi'a Al Adawiyya is reduced to that of a pious, isolated and submissive saint. A reductive image, according to Asma Lamrabet, who, beyond myths and legends, sees in her a powerful, subversive woman who had the courage to transgress the social norms of her time.
In your previous essay, "Le Prophète de l'islam et les femmes de sa vie", you portrayed famous female figures in Muslim culture. Is this the same approach with Rabi'a Al' Adawiyya?
Yes, to the extent that this approach frames my work. In my research, I try to reread history, always with a critical eye and an updated vision that allows us to better understand our past. Whether women or men, I believe that the great figures who have marked the history of Islam have something to offer us in our present. All the more so because today there is a certain curiosity on the part of a public eager to better understand the Arab-Muslim heritage that constitutes our culture.
In recent years we have witnessed among Moroccans a strong revival of interest in the history of their country. Is this also the case for the history of Islam?
I think that today, many young people of Muslim culture express a certain confusion, even bewilderment, about their knowledge of their religion, which can even lead to a loss of reference points in relation to this Islamic culture that we are supposed to have innately. This is something I myself experienced a long time ago in relation to all those names, places and dates, all that information, sometimes erroneous, that circulates.
I will not say that Rab'ia Al Adawiyya was not a model of piety and spiritual fervour, quite the contrary, I even think that this was her great power.
And even more so when one has not followed a specific study programme dedicated to Islam, its history and religion in general. Hence the need to reread this history, to respond to a search for meaning in terms of knowledge and spirituality, but also to a search for the identity of Islam. This is deeply rooted in our current situation, because it is in the name of this religion's past that a certain ideology is imposed on us today, and even discriminatory laws – especially with regard to women – which are supposed to be sacred and therefore immutable.
Generally speaking, there has been a historical tendency to make a large number of women invisible. This was also the case with Râbi'a Al Adawiyya, although her name still resonates today. What do you think about this process of marginalisation?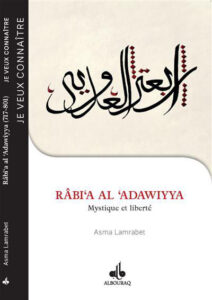 The marginalisation of women in history is unfortunately found in all cultures and religions. It is a structural process inherent to human history and stems from a question of power. From the moment power is held by men, so is history. Of course, a lot of work has been done to prevent this. Today, historical research is giving more and more space to women and is trying to restore a set of facts and women's journeys that have been made invisible for centuries. Nothing can therefore be taken for granted. Women are undoubtedly more present today than ever before, both in history and in the present, but there is no guarantee that there will be no regression. Hence the absolute necessity to continue to remember the women who made history, to recount what they did and to revalue their contributions, even if it seems repetitive.
When they are not forgotten, the great figures of Muslim history, like Rabi'a Al Adawyya, see their image reduced or deformed. Why is it that in the collective imagination we retain only the image of a cloistered and extremely pious woman?
Because it is men who have written her history, and the image of a submissive and enclosed woman is much more reassuring to them than that of the intelligent, free and rebellious woman.  I will not say that Rab'ia Al Adawiyya was not a model of piety and spiritual fervour, quite the contrary, I even think that this was her great power, but she was more than that, she was at the same time a pioneer and a great scholar.