Hammamed organises in Syria two initiatives for the valorisation of the Mediterranean Hammam: "Hammam Day" and "Hammam Hidden Door, Living Treasure" exhibitions. In parallel with the International Day of Water, on 22th March, Hammamed organises in Damascus, Syria, the Hammam Day, an event entirely dedicated to the fascinating world of the Hammams. On this occasion, children and women will be introduced to the significance of the Hammam as a cultural heritage, its function and the evolution of the social implications of its presence in Mediterranean historic city centres.
A public event – Let's go to Hammam Al-Qaramani – will allow locals to visit this important Hammam located next to Marjeh Square, one of the central parts of the city and a geographic crossroads between the "old city", the colonial district, and the popular suburbs. There will be an exhibition of objects and artefacts used in the Hammam, and presentations on the hammam heritage, and concrete actions implemented in the town around water collection and recycling, and the urban management of the surrounding area of Al-Qaramani.
The "Hammam Hidden Door, Living Treasure" exhibition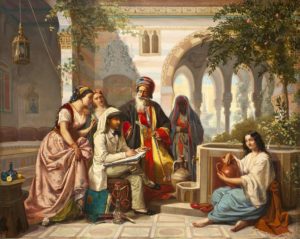 The exhibition will be held beneath the National Museum in Tekkyeh as-Suleimaniyeh, an important building and garden complex dating back to 1554-1560 and designed by the famed architect Sinan. It will give insight into the history, the present and the future of the Hammam – from the traditional, through the architectural highlights of the second millennium, to the contemporary neighbourhood Hammams of the present.
During a suggestive journey through the history of bath-houses in the Euro-Mediterranean region, the public will be introduced to different examples of Hammams and their value as a cultural heritage element embedded in the overall architectural planning of historic city centres in the region, and their importance for local communities as a meeting place that facilitates the development of social activities.
The Public will also experience the sensation of being in a real Hammam -moving from the changing room to the bathing areas and other spaces- and discover different kinds of handicraft objects, including some objects on loan from the Azem Palace Museum collection. The exhibition will also include some selected examples of drafts for new construction and renovation projects of Hammams.
On 23-24 March, a workshop involving students from the Faculty of Architecture at the University of Damascus and focusing on the Damascene Hammams and the case of Hammam Al-Jozeh in the souk Sarouja, will also be organised.
From 22 March to 17 April 2010, Damascus, Syria