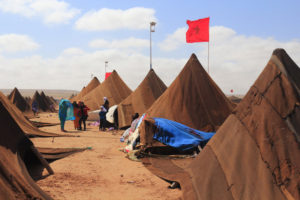 Every year Tan Tan, a small and desertic town in the South of Morocco, celebrates its Moussem, or annual encounter, during the month of May or June.  There, most of the tribes of the Sahara and the Sahel meet to show to local people and visitors their traditions, music, camels, horses and handicrafts. This Moussem has being declared Oral and Intangible Heritage by UNESCO in 2005.
It is a perfect opportunity for the local population to enjoy that great festivity and to coexist for a few days with visitors and members of other tribes, under the tents, or khaima, weaved with camel and goat wool. This year the Moussem, organised by the Almouggar Foundation, celebrated the twelve regions of Morocco, and brought together the popular musical groups from all the regions.
Also, we could admire the horses ceremonies called Tbaurida, the falconry and the most refined national crafts in the new Handicraft Village. The United Arab Emirates whas the invited country of this year.
Photograhs: Inés Eléxpuru