The exhibition of FUNCI Gardens of al-Andalus travels now to Dos Hermanas, in collaboration with the Council of that sevilian town, as part of Med-O-Med programme.
¡Oh dwellers of al-Ándalus, what blessings you enjoy, water, shade, rivers and trees! The Garden of Eternal Happiness is not abroad but here in your lands: could I but choose, this place would be my choice. Believe not that tomorrow you shall enter hell. One does not enter hell after having enjoyed Paradise! Ibn Jafaya (11th-12th centuries)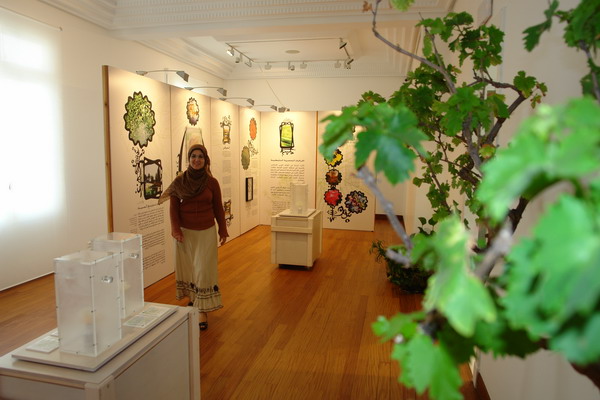 Think of a garden in al-Ándalus, and the mind conjures up a place for meditation and contemplation, filled with flowers and scents, with trees, fountains, ponds and running water, where the architecture is reflected in pools, where the light caresses the vegetation, transforming it with the passing of time and the seasons.  Also open spaces, sometimes terraced, that span the landscape, expressing the concept of a garden of power. Medieval gardens in the world of Islam, of which only a small handful of graphic and literary descriptions have come down to us, differed from region to region. Although influenced by local tradition, they were always designed around the spiritual concept of the garden as a Paradise.
Oriental gardens were related to the legendary Persian garden, with wide avenues, canals, fountains and pavilions, set amidst exuberant vegetation. The Umayyad dynasty brought to the Islamic west a love of gardens, blending eastern inspirations of broad horizons with the concept of walled gardens – which, according to the descriptions of the Koran – were equally attractive and suggestive. In both al-Ándalus and the Maghreb, walled gardens were created having a central pond and a quadripartite design that was introduced at least as early as the time of the Caliphs. The earliest examples of this concept may today be found in the palace of Medina Azahara.
Narrow channels
The design comprised four narrow channels at right angles representing the Rivers of Eden, and four sunken flowerbeds arranged to enhance appreciation of the flora from the paths. These patios or walled gardens, generally within houses or palaces, were filled with aromatic and ornamental flowers – roses, violets and lilies – as well as climbing plants such as jasmine, not forgetting water lilies. Other favourites were myrtle, pomegranates, cypresses and bitter-orange trees. This type of garden was akin to the hortus conclusus of Semitic tradition. The name given to them was riyad, now also the term used for a dwelling in the Maghreb region.
As the walled garden concept developed, so did the peri-urban garden known as al-munya, a more spacious, orchard garden which combined flowers, aromatic plants, fruit trees and vegetables with ponds, irrigation canals and leisure pavilions. Also vast open spaces were created for botanical experiments.
Free entrance
Dates : from 26th January to 25th march 2012
Place : Cultural Centre "La Almona", La Mina s/n, Dos Hermanas (Sevilia)
Time : Monday to friday : from 09.00h to 14.00h and from 17.00h to 20.00h Saturdays, sundays and holidays : de 11.00h a 14.00h y de 17.00h a 20.00h
cholar visits : phone number 955 675 203