Rehabilitation of the Agdal of Marrakesh
FUNCI (Fundación de Cultura Islámica) signed an important agreement, as part of its Med-O-Med Programme, for the restoration of the historic Agdal garden in Marrakesh, Morocco, World Heritage by UNESCO. The agreement has been set up between the Regional Council of Marrakesh-Tensift-Al Haouz, the INRA (Institut de la Recherche Agronomique) and the Mechouar Kasbah municipality […]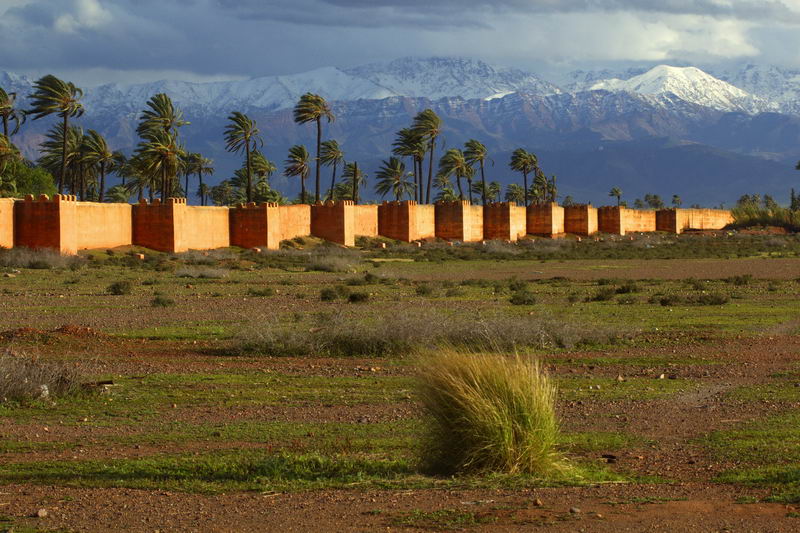 FUNCI (Fundación de Cultura Islámica) signed an important agreement, as part of its Med-O-Med Programme, for the restoration of the historic Agdal garden in Marrakesh, Morocco, World Heritage by UNESCO. The agreement has been set up between the Regional Council of Marrakesh-Tensift-Al Haouz, the INRA (Institut de la Recherche Agronomique) and the Mechouar Kasbah municipality in which this 12th-century Almohad garden lies. The project has been currently presented by the Moroccan Culture Ministry to the Heritage Strategy 2020.
For the restoration of Agdal in Marrakech, Med-O-Med, whose secretariat will coordinate and direct the works, is appointing a Board with the heads of the institutions collaborating on the project, and a scientific Committee formed by international experts on landscape architecture, botany, agronomy, architecture, archeology and tourism.
The group of experts belongs to some of those institutions: Institut National de la Recherche Agronomique, INRA in Morocco, the Arabic Studies School of Granada (CSIC), the International Council on Monuments and Sites, ICOMOS; the University Cadi Ayyad in Marrakech and the University Complutense de Madrid.
The Agdal garden in Marrakesh is undoubtedly one of the most important Islamic gardens in the world, the largest and the only one dating from the Almohad period. It is a paradigmatic cultural landscape as established in the Florence Charter of 1982 and by UNESCO. Its almost 500 hectares offer both natural and cultural elements of enormous value
What is to be found in the Agdal gardens?
Archaeological remains: pavilions, kiosks and remains of the palace belonging to various dynasties, stables dating back to the 19th century, oil and sugar mills and powder plants.
Vegetation: citrus, olive, pomegranate and fig orchards are some unique, old collections, with pavilions and kiosks dating from different dynasties, as well as large reservoirs and ponds.
Water: complex irrigation system based on underground channels (khotaras) and surface channels (sequia).
The objectives of the project are based in sustainable development, environmental conservation and cultural promotion:
Job creation through the rehabilitation works.
Touristic and cultural promotion for Marrakesh.
Knowledge and conservation of biodiversity as well as archaeological and architectural heritage.
Education and awareness-raising approach.
Development of ecological agriculture and natural resource management.
The first phase of the work, which has already begun, will consist in the collection of the maximum historical documentation of this space, as well as the collection and production of maps and leveling. After that, a series of archaeological trial prospections, an estimation of the state of plantations and various inventories will be made before starting the project and the restoration work.
The second phase will consist on a project for the touristic use and management of this centenary garden.